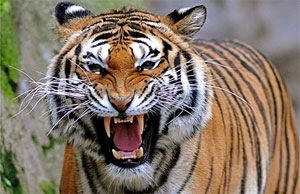 The Royal Bardia National Park is the largest and most undisturbed wild area of the Terai region of the Nepal Himalayas. Similar to Chitwan park, but with a drier climate and a more remote location, Bardia encompasses 1,000-sq-kms of riverine grassland and sal forests. The Terai or lowland hills and valleys of southern Nepal, nowhere over 1,000 feet in elevation, extend all along the Indian border. The Terai once supported a healthy wildlife population in a habitat of 25-foot high elephant grass and dense hardwood forests, but had very few people, due to virulent malarial mosquitos. Bardia was a royal hunting reserve of Nepal's Rana rulers from 1846 to 1950. In Nepal, wildlife lost whatever protection the royal hunting reserve conveyed when the Rana rule ended in the 1950's. A well-meaning malaria eradication program in the 1950's and 1960's opened the terai for settlement, and transformed about 75% of the native Terai to agricultural land. Wildlife populations declined with the combination of increased settlement and widespread poaching. Bardia was declared a wildlife reserve in 1976, first measuring 134 sq miles and expanded in 1985 to 374 sq miles.
Trip Itinerary
Day 01: Arrive From Kathmandu to Bardia
Day 02: Bardia arrive at hotel and cultural tour to a Tharu village and visit elephant breeding center.
Day 03: Jungle trek (Chance to see the barking dear, bear, blue cow, rhinos and might be Bengal tiger).
Day 04: Bird watching and back to Kathmandu
Day 05: Final Departure