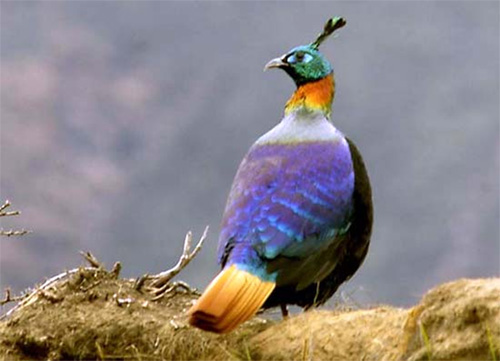 Koshi tappu wildlife reserve was established in 1976. Its area is 175 sq. kilometers. This reserve lies in the flood plains of the River Sapta Koshi in Mideast Nepal, and is a favorite spot for bird enthusiasts. It is home to more than 250 bird species including 20 varieites of duck, two types of ibis and many storks, egrets and herons. The endangered swamp partridge and the Bengal florican are also found here and the Koshi Barrage is an extremely important nesting place for migratory birds. Koshi tappu reserve is also home to many types of mammals such as hog deer, spotted deer, wild boar and blue bull. The endangered gharial crocodile and Gangetic dolphin have been recorded in the Koshi River and the last surviving population of wild buffalo, or arna, are found here. The vegetation mainly includes tall Khar-pater (grasslands), with a few patches of Khar-sissoo (scrub), also forest and deciduous mixed riverine forest. During the monsoon season the river is flooded to depths ranging from 10-300 cm and with the changing seasons the Sapta-Koshi River also changes its course.
Trip Itinerary
Day 01: Arrival Kathmandu and transfer to Hotel.
Day 02: Fly to Biratnagar and drive to Koshi Tappu Wildlife Reserve.
Day 03: Jungle safari at Koshi Tappu Wildlife Reserve.
Day 04: Drive to Biratnagar and fly to Kathmandu.
Day 05: Final Departure.